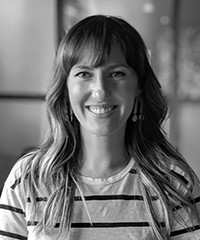 Aleks Kalscheur
Designer
2019 Core Value Award Winner
---
BE EXCELLENT
---
Creatis Employee Since:
April 2014
Clients Supported:
Deco Pac, Cargill, Creatis Studio
Be Excellent Core Value:
How you do anything is how you do everything – so strive to be excellent always.
Having a relentless sense of urgency to achieve excellence. Being the best you can be in every moment. Fully serving our clients by remaining fully engaged and focused on providing not just good – but THE BEST – work possible.
Why Aleks?
Aleks has been with Creatis 5+ years – both as part of the studio team and onsite with our clients Cargill and Deco Pac. Throughout those years, she's only gotten better and better as a designer & creative lead. You can say a lot of positive things about Aleks as an employee - but one that stands out is her relentless passion for doing the best work possible. Her fantastic work has included brand development & redesign for multiple clients, most recently for Cargill – where she's received high praise from executive leadership.

She's a committed designer who can do it all and truly cares about the quality of her work - no matter the project; she wants to deliver great things for the client and Creatis.
---